WBA, Your Plumbing and Heating Contractor
Let Woodstock Building Associates help with your next plumbing and heating project.  Our full-service, licensed plumbing and heating department works on a wide range of projects from AC cleanings to Mitsubishi Units and Solar installation.  Call WBA today 860-928-0897 and ask for Jon Frost.  You can also email him at wba@wbahomes.com.
Mitsubishi Ductless Heat Pump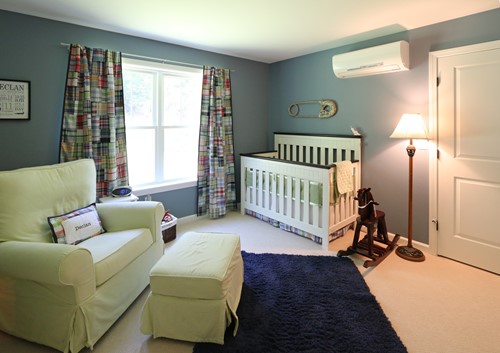 Now is the time to make the switch to your heating and cooling system.  A Mitsubishi Electric Ductless Heat Pump will keep you cool in the summer, cozy in the winter and energy-efficient all year-round.  There is no need for ductwork, which means we can install it for you in hours, not days.  WBA is the first in the area to install Mitsubishi Units and with  over 800 units installed, we can see the proven advantages of this technology; ease of zoning, quiet, and controllable. (Listen to Doug Porter's interview on WINY radio (SoundCloud) explaining this system).
Using the Mitsubishi system, WBA offers a wide range of heating and cooling options to fit the needs of your space.  We can install a single unit or convert your entire home system.  Our team calculates the size of each unit to maximize efficiency all while handling the installation and electrical work.  This is an ideal system for an addition or full home build.
Give WBA a call to hear more about the benefits and rebates when you upgrade your home heating and cooling system.
Kohler Generators
Be prepared during power outages! Keep your food cold, lights on, and water running with a Standby Automatic Kohler Generator.  WBA offers a wide range of generator sizes that will power a few appliances, an entire house, or your commercial building. Our plumbing department is able to install and service Kohler units so you can sit back and relax the next time the power goes out.  These units are installed with an automatic disconnect switch, taking the worry out of back feeding the electrical grid.  Give WBA a call today and have piece of mind that your electricity will always be up and running.
Solar Hot Water
Want to reduce your hot water cost and make use of free energy? As a licensed solar contractor, WBA is committed to utilizing the latest energy saving technology.  Shown here is a Buderus Solar Hot Water System.  These high-performance packages can heat up to 65% of the average home's domestic hot water. WBA offers a number of options to meet your water demand.  Give WBA a call today to learn about our energy efficiency options.
Additional Services Provided
General Plumbing Repair
Emergency Repair
AC Cleaning
Sewer Repair
Water Pumps & Tanks
HEPA Filtration
Boilers by Buderus, Peerless, and Weil-McLain
Water Heaters by State and Bradford White
Fixtures and faucets by Moen and Kohler
Water treatment by Lancaster
Ventilation by RenewAire